Poster Archive
: April 2013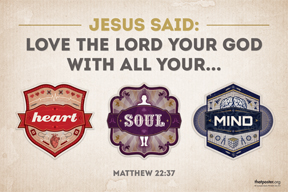 Message: ...Heart, Soul and Mind
Bible verse: Jesus said: "Love the Lord your God with all your heart and with all your soul and with all your mind". (Matthew 22:37)
Nothing says Australia more than lamingtons and pavlova - regardless of what our Kiwi friends might think. Each year, with the national anthem playing in the background and a sprig of wattle stuck to a mayor's lapel, thousands of new citizens adopt our country's quirkiness and identity by making the following commitment:
"From this time forward, I pledge my loyalty to Australia and its people, whose democratic beliefs I share, whose rights and liberties I respect, and whose laws I will uphold and obey."
Did you notice the missing two words? That's right - "under God". They slot right after the first comma. New citizens now have the option of keeping God or omitting Him altogether.
Ironically, a commitment that is supposed to unite us as one nation, instantly divides us. Two pledges are a reflection of modern society. Who knows how many options there'll be in our nation's pledge in years to come?
But citizenship in heaven is irrevocably tied to a single pledge. There are no alternate options! So, if you're not keen on spending time with God or the kinds of people He chooses to have in his Kingdom then don't take the pledge! But if you are then there's only one pledge available. And God insists that your pledge be to his dear son, Jesus. Here are the exact words Jesus gave to a group of men looking to escape what God wants,
"You shall love the Lord your God with all your heart and with all your soul and with all your mind. This is the great and first commandment. And a second is like it: You shall love your neighbour as yourself."
God's pledge is total in its demands. You must give yourself completely to God and love others even more than you love yourself. It's the highest of high standards. Far higher than the Australian citizenship pledge. And, of course no one can keep it perfectly. That's why Jesus's death on the cross helps us. Jesus pays for the sin that gets in the way of us keeping the pledge.
God wants you to put Him first above every aspect of your life: family, friends, work, money, hobbies. Everything. And it's not because He wants you to miss out on life's good things. In fact, it's quite the opposite. We think being an Australian citizen is the greatest thing possible. But actually, knowing God is far better. So will you make the pledge? Will you give yourself totally to God?
Prayer: Dear God, I commit my heart, soul and mind to worshipping you. Please help me overcome any idols or distractions that stop me from loving you perfectly each day. AMEN.