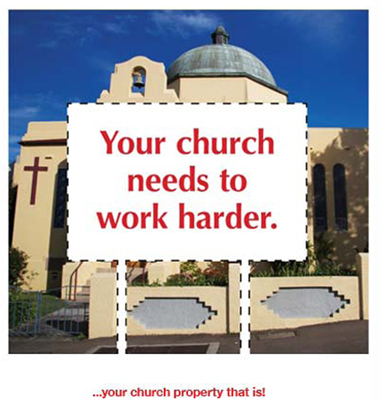 Outreach Posters can help you make the most of your location.
With a new, gospel focused poster each month, Outreach Posters are a great tool for evangelism.
Every poster is designed to engage with the community and spark conversations.
Our posters are available in two sizes and come with a waterproof display cabinet.
Begin a conversation in your community with Outreach Posters now.
To receive further information for your church leadership team, contact Bob at admin@outreachmedia.org.au, or 0430 344 514.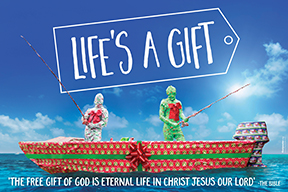 Current poster
: December 2015
"Life's a Gift"
Imagine if everything... every gust of wind, every raindrop - each new season... Imagine if every new thing we received in life came gift-wrapped with sticky tape and paper. Red faced babies in delivery wards ... falling autumn leaves... home dinners served hot with the wrapping paper, wet and translucent and sliding off the gravy...
Would it help? Would there be a net increase in wonder at our world? Would our appreciation for the brilliance and brightness of creation be carried along each day with delightful surprise? Hardly. We'd be annoyed. Everywhere, scissor serfs would find employment cutting paper and peeling it back to expose useful daily products and otherwise unseen vistas.
The fact is, people don't like to be forced into appreciation... or to be told what to think... or feel. But we really should feel grateful appreciation towards God because he's given each of us two lives. That may sound weird but it's true. Twice he's blessed us with life. That's right... twice!
Perhaps a little explanation is needed....